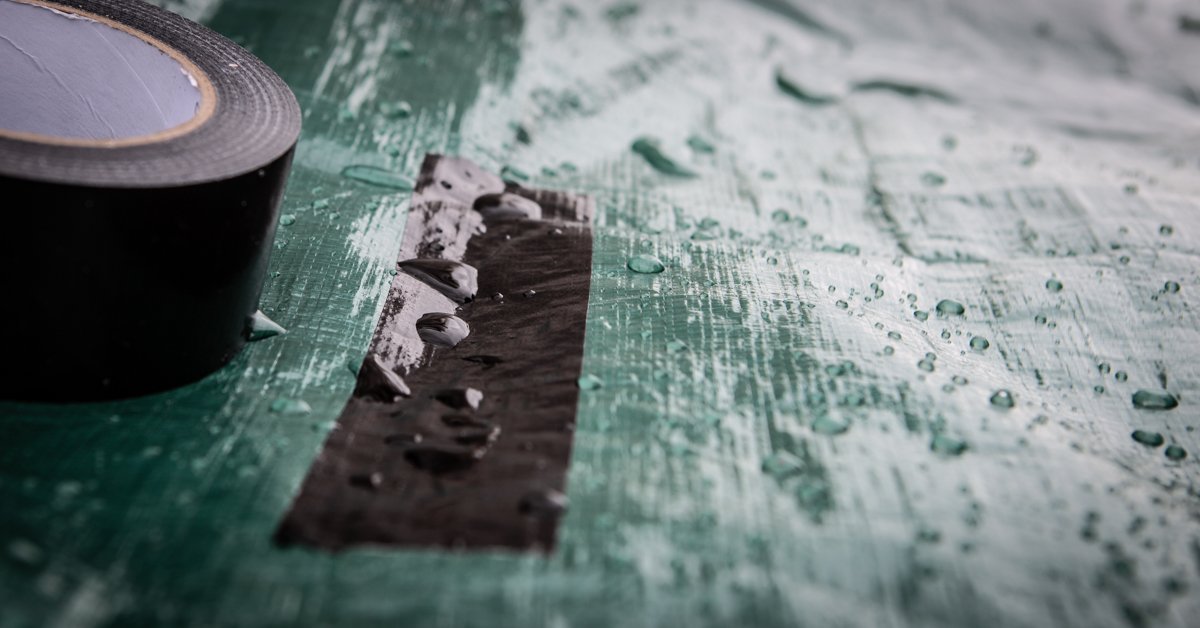 We're often asked the question "Is duct tape waterproof?". On paper, many duct tapes say they are, but we like to put things to the test and to see how they perform in real-world situations.
We took a selection of our best-selling duct tapes and subjected them to a 60-day weather test.
After 60 days of being exposed to the elements, most duct tapes performed brilliantly and were exceptionally waterproof (or at least water resistant). However, the surface you stick them to is key. The best performers were those applied to non-porous surfaces like metal and plastic. These smooth, non-absorbent surfaces prevented water from penetrating the adhesive and helped the tapes stay firmly in place.
Waterproof for up to 60 days (and counting)
When applied to a sheet of aluminium or plastic, most duct tapes remained unphased by our weather test. They endured a mix of rain, cold weather, sub-zero temperatures and cool, sunny spells. After 60 days, we saw very little signs of edge peeling, bubbling, or weakening from any of our 'best in test' duct tapes.
Intrigued by how long they would last, we're continuing the test beyond the initial 60 days. We'll report back as things progress over the coming months.
Best in test: Multi-Purpose Duct Tape & High-Tak Duct Tape

It's not so great on porous surfaces.
The duct tapes in our tests didn't fare so well on porous surfaces like wood and brick. The absorbent nature of these materials allowed the water to get between the surface and the adhesive. As a result, the tapes became unstuck far sooner than those applied to a non-porous surface.

Conclusion:
Duct tape's polyethylene coating makes it exceptionally water resistant. Although, the surface you're sticking it to is equally important. You should get great results from smooth, non-porous surfaces like aluminium, plastic, vinyl and glass. However, porous surfaces like wood, brick and concrete may need a suitable primer to help them stick and keep out the water.

Similarly, how long it will remain water resistant for, will very much depend on your application. For the tapes we tested at least, they were still going strong after 60 days.

For best results:
Choose quality duct tape with a strong adhesive.

Make sure the surface is clean and dry before application

Apply to a smooth, non-porous surface.
Testing information: We performed these tests in-house and in real-life situations - not in a lab. As a result, you may not always get the same results for every application. Therefore, we recommend all users assess the suitability of any product themselves, and for their specific application. We also only tested a handful of products, therefore these results should only be considered as relevant for the individual products tested.
Weather tests were performed by applying the tapes to a sheet of aluminium and plastic. They were placed outdoors and positioned at a 45 degree angle. The test period ran between October and December. The weather was a mix of cool sunshine, rainy days and low temperatures.

Products we tested: Multi-Purpose Duct Tape, Indoor/Outdoor Duct Tape, High-Tak Duct Tape.

Need help? Talk to our Team